WWW.STROY-UNION.RU

One of the largest and most popular Internet-catalogues of Runet for the building industry. It is a component part of the informational project «Professionals of the building market» by the «InformUnion Media» publishing house.
Goal-oriented audience:

The server is oriented on the experts of the building industry and on the interested consumers of building materials, building equipment and services.
What is on the server?

The server gives free round-the-clock access to the constantly updated database of building industry companies.

Along with the catalogue of companies, visitors of the site are offered hot news from the industry, press-releases, show advertising, information about the heads of domestic building industry, articles on organizational, production and technological problems of the Russian building industry.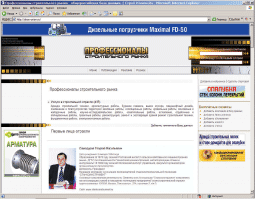 WWW.STROY-UNION.RU
More than 300 companies have already estimated high efficiency of advertising on the «Professionals of the building market» web catalogue.